Carolina Madero-Chanche had to wait her entire 9-year-old life to meet her father for the first time.

For years, Jose promised his girls, Carolina and Lucely, 11, he would come home for Christmas, Valentine's Day and town festivals. On a hot day in June, he finally did.

Carolina remembers one Sunday afternoon when she heard the rumble of the family's old truck out front. She jumped off her bed and tore into the front room, leaving the forgotten game behind. Her stomach filled with butterflies. Her feet jumped up and down like they were filled with springs.

A man only seen before in pictures walked through the door. She reached up to hug him and cried, "Dad, I love you so much! I'm so glad you came back! Why did it take you so long?"

Jose Madero Pech gathered his youngest daughter up in his arms and walked through his home for the first time and struggled to answer her question.
A man only seen before in pictures walked through the door. She reached up to hug him and cried, "Dad, I love you so much!"
Jose left for the United States when his wife, Raquel, was seven months pregnant with their youngest daughter. He spent nine years there earning money to send back to his wife and two daughters. He lived with his sister and her family while working at a car wash in Inglewood, Calif. He left to earn money to build a comfortable home in Tunkas where the girls could grow up.

The lime green house, modeled after a California beach house, sits across from the small playground in Tunkas. Children scream and run in the dusty streets.

People ride by on rusty bicycles. The sound of street vendors echoes across the town made of turquoise, yellow, cherry red, and bubble gum pink buildings.

The girls missed their father. Raquel remembers when they would ask her if he was coming home on a donkey as the years dragged on.

"I've lost the opportunity to watch them grow," Jose says. "I didn't see Carolina when she was born. I lost the opportunity to see their first days of school."

The estimated migration from the Yucatan state to the U.S. is roughly 150,000, according to IndeMaya, a state agency. The top industries in the small village of Tunkas are honey, agriculture and migration. There are few other jobs.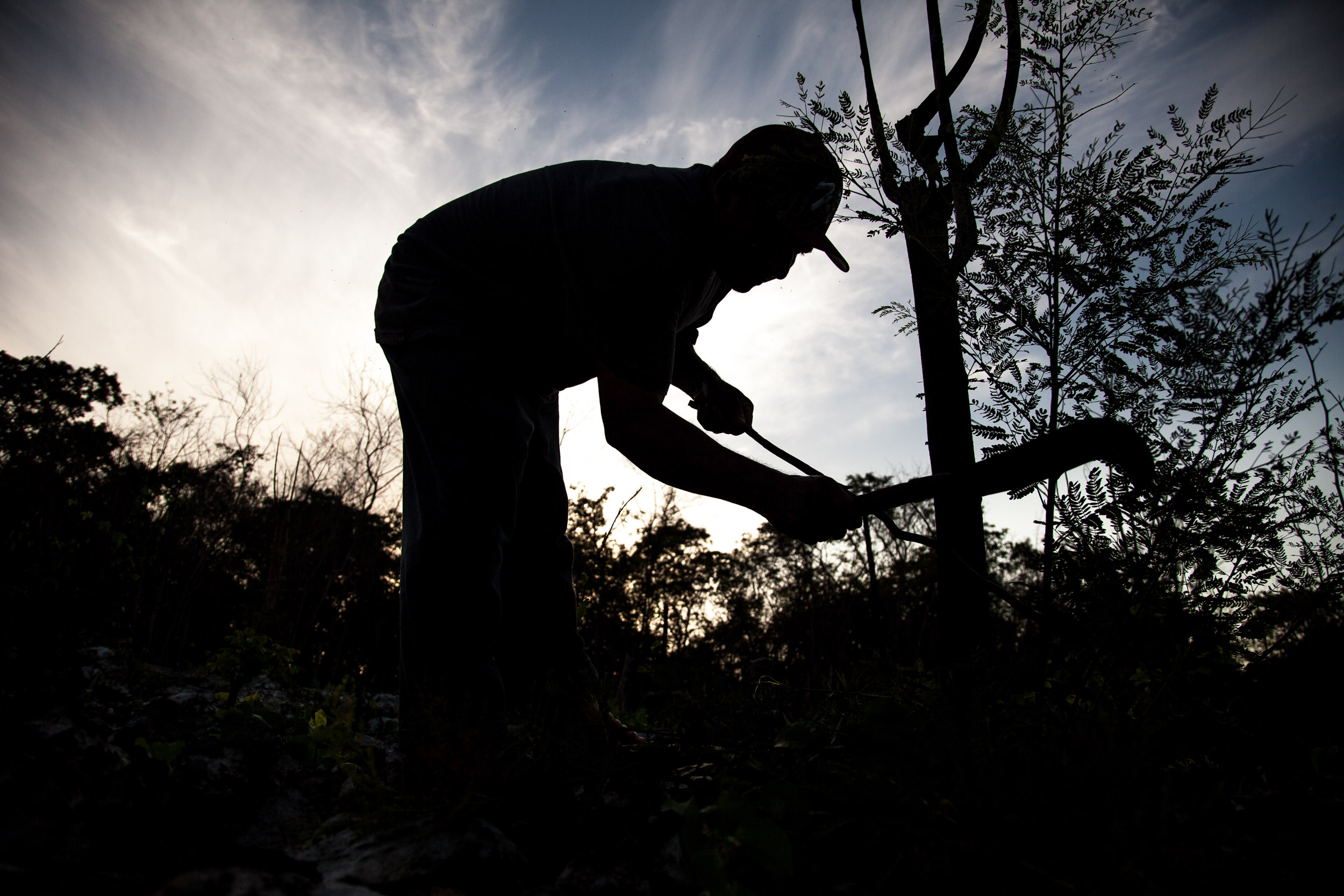 Video Produced By Jeff Woo

Jose Madero wanted a better life for his family. With few job opportunities for him in Tunkas, Madero made the tough decision to emigrate to the United States where he could earn higher wages. In 2005 he left his pregnant wife and their two-year-old daughter behind, and he moved to Los Angeles, California. For the next nine years he only knew his daughters through photos and phone conversations.

The money Madero earned from abroad was enough to build a house for his family in Tunkas and in the summer of 2015 he finally returned to his family, hugging his daughter, Carolina, for the first time in her life and his daughter, Lucely, for the first time she could remember. Madero now struggles to find his identity as a father to the children he barely knows, and they are all coming to terms with their sacrifices.
"The money you earn is only to survive," Raquel says.

Construction of their home progressed slowly. If Jose came back before it was finished, he'd probably not have the earnings in Tunkas to finish the home.

Coming back for a visit meant risking return across a border with multiplying peril from Mexican gangs and increased U.S. border patrol.

Jose went to the United States for the first time when he was 17 years old. He came back to Tunkas from his first immigration 14 years later just as poor as when he left.

As a new bride of two years, Raquel remembers chiding her husband about going back to the U.S. She remembered he didn't save money in his first sojourn.

She was seven months pregnant with Carolina.

"If you go and do the exact same thing you did the first time, just stay," she said.

He responded, "I want to go to make a better life for us."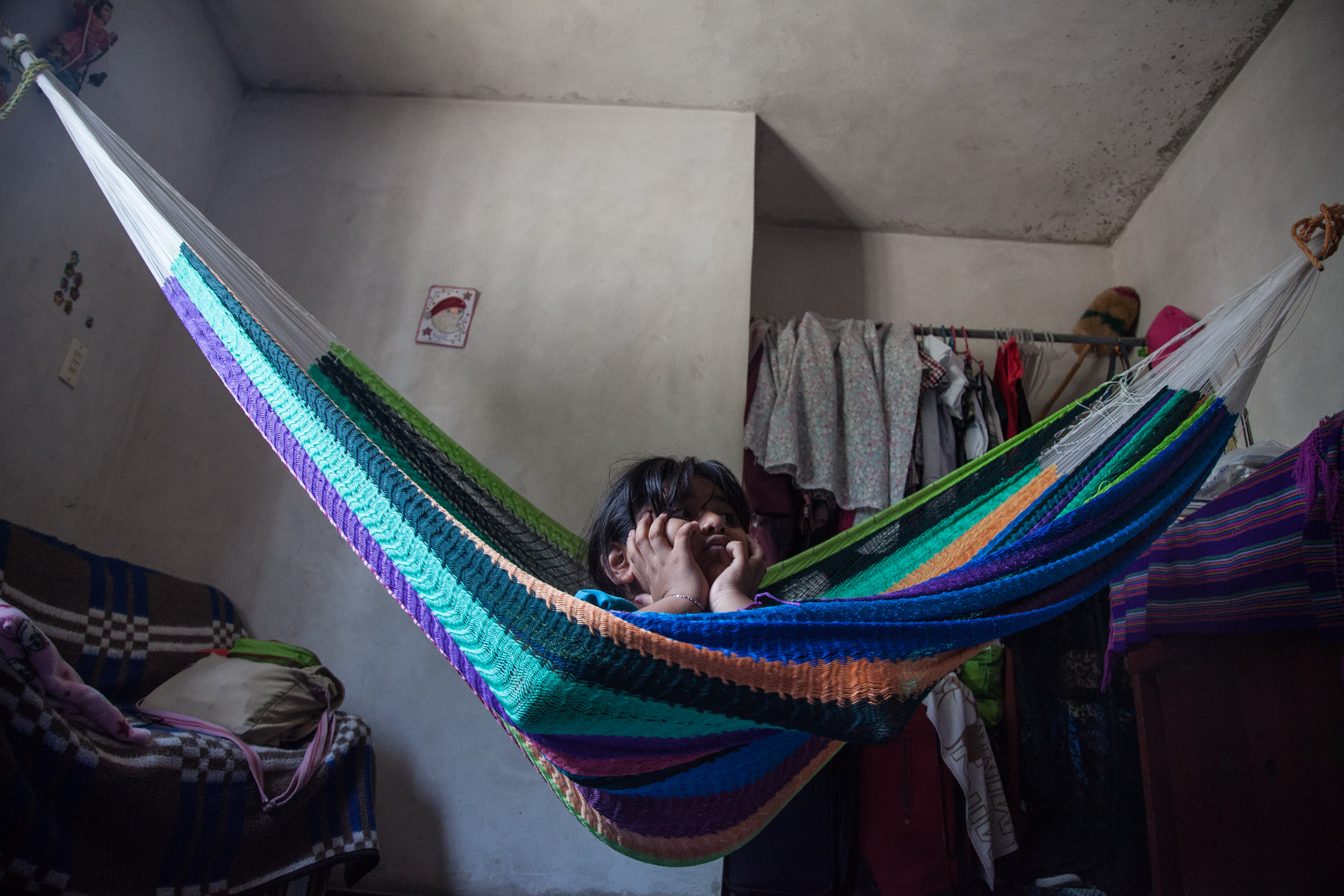 Without her husband, Raquel had to raise a new-born baby and a 2-year-old child on her own. Even though he called once a week, she had to get used to being alone.

The family has had everything they need to live a comfortable life, but they've missed the opportunity to have a father.

Before he left, Jose would take his 2-year-old daughter, Lucely, on walks around the town. They loved being together, Raquel says, but Lucely says she doesn't remember.

"I wish he had stayed here just to be with us," Lucely says.

Raquel used to tell her girls of their father's kindness. But the girls simply wanted his presence in Tunkas.

"I wanted my dad to take me on a rollercoaster, but he didn't come," she says. "I was very mad at him for not coming."

Even though Jose called his wife and girls at least once a week, it wasn't enough to replace his physical presence.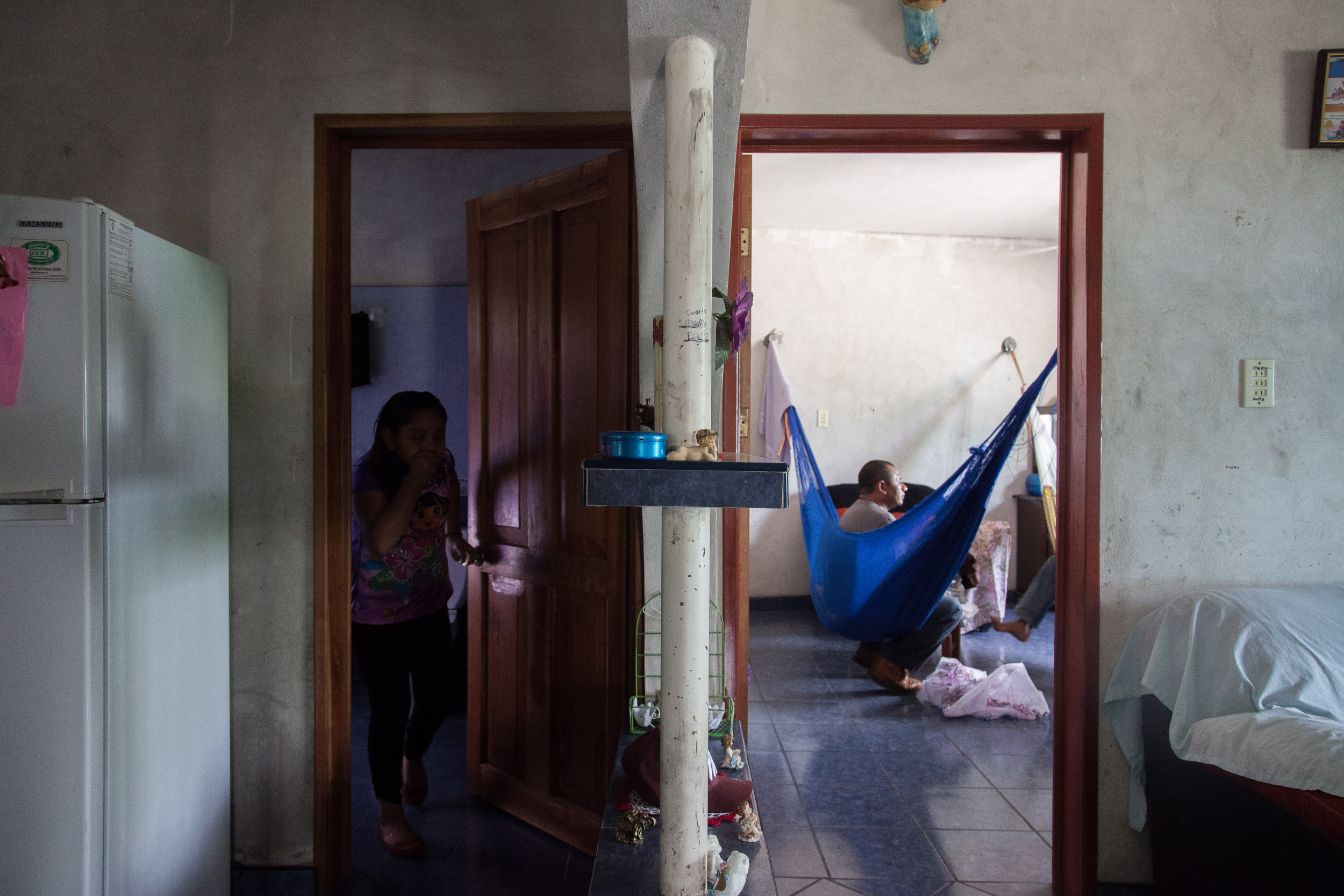 Jose was gone. The girls needed a father. Raquel and her two daughters lived with her father-in-law for seven years until the house was finished, and he assumed a paternal role by default.

"I was like a father to the girls," Eriverto, Jose's father, says. "They respect me as The girls and Raquel lived with Eriverto in his small, two room house. The girls slept in the front room in their hammocks while their grandfather stretched his hammock across the kitchen.

On a Sunday afternoon in the lime green home, the family sits in different rooms.

Each room is labeled with an arrow and the occupant's name: "Carolina," "Lucely" and "Mama y Papa." The parent's room was labeled when the house was built four years ago, long before Jose ever slept there.

Raquel calls to Carolina and Lucely to finish studying for their exams the next day. Lucely swings in her multi-colored hammock across from the pink princess bed she doesn't sleep in. Carolina lies on her stomach in the next room with her bare feet swinging back and forth. She reads aloud from her Spanish book.

Since he's been home, the two girls have begged their dad to play volleyball, basketball and soccer. Much to Raquel's chagrin, they often choose to play with their dad instead of studying. If they ask him, he will almost always say yes. Disney Princesses, blonde Barbie dolls and sparkly hair bows fill the girls' rooms. Tablets and crayons litter their desks. The mantel is layered with pictures of the girls and trinkets sent home from the U.S. The refrigerator whirs in the kitchen.
"Since he's come back, I feel like I'm a different person," Lucely says. "I feel like I'm growing up."
All of this has been provided by Jose's labors abroad.

His daughters only know Jose by his voice and the toys he's sent them. The room is filled with tablets, clothes and stuffed animals for the girls.

"I think because he's been gone for so long, he's overcompensating," Raquel says. "He's not able to say no to them because he already left for nine years."

Jose and Raquel have gotten along fine since he's been back. They're free.

Sometimes one goes out, and the other stays. Other times they go out together.

Jose's presence at home has made a huge impact on his girls and his wife.

"Since he's come back, I feel like I'm a different person," Lucely says. "I feel like I'm growing up."

Even though the money Jose made in the United States will eventually run out, the family wasn't founded on the desire for money.
"He's not able to say no to them because he already left for 9 years."
When Jose asked Raquel to marry him nearly a decade ago, he told her that he didn't have enough money to throw a big, fancy wedding. She told him that she didn't care. All she cared about was being with him. Jose also realizes how important it is for him to be there for his daughters.

"Money is necessary, but the love of a father is also necessary," he says.

From her child's viewpoint, her father's return illustrates the power of a wish.

"I was born on March 19," Carolina says. "When I turned 9 years old, I wished on my birthday cake that my dad would come back. That's why he came back."

The family wakes up every morning before the sun rises. The girls scamper under the fluorescent kitchen light with wet hair and bare feet.

Carolina grabs her pink and purple backpack and hauls it up on her small shoulders. Lucely swings her tan messenger bag with light pink trim across her body. Both girls follow their dad out the door without a word.

Jose carries his girls' pink and green water bottles as they stroll down the street like old friends. The cool morning air greets them as they turn the corner towards the town square. The sky turns a faint blue as the sun makes its way over the horizon.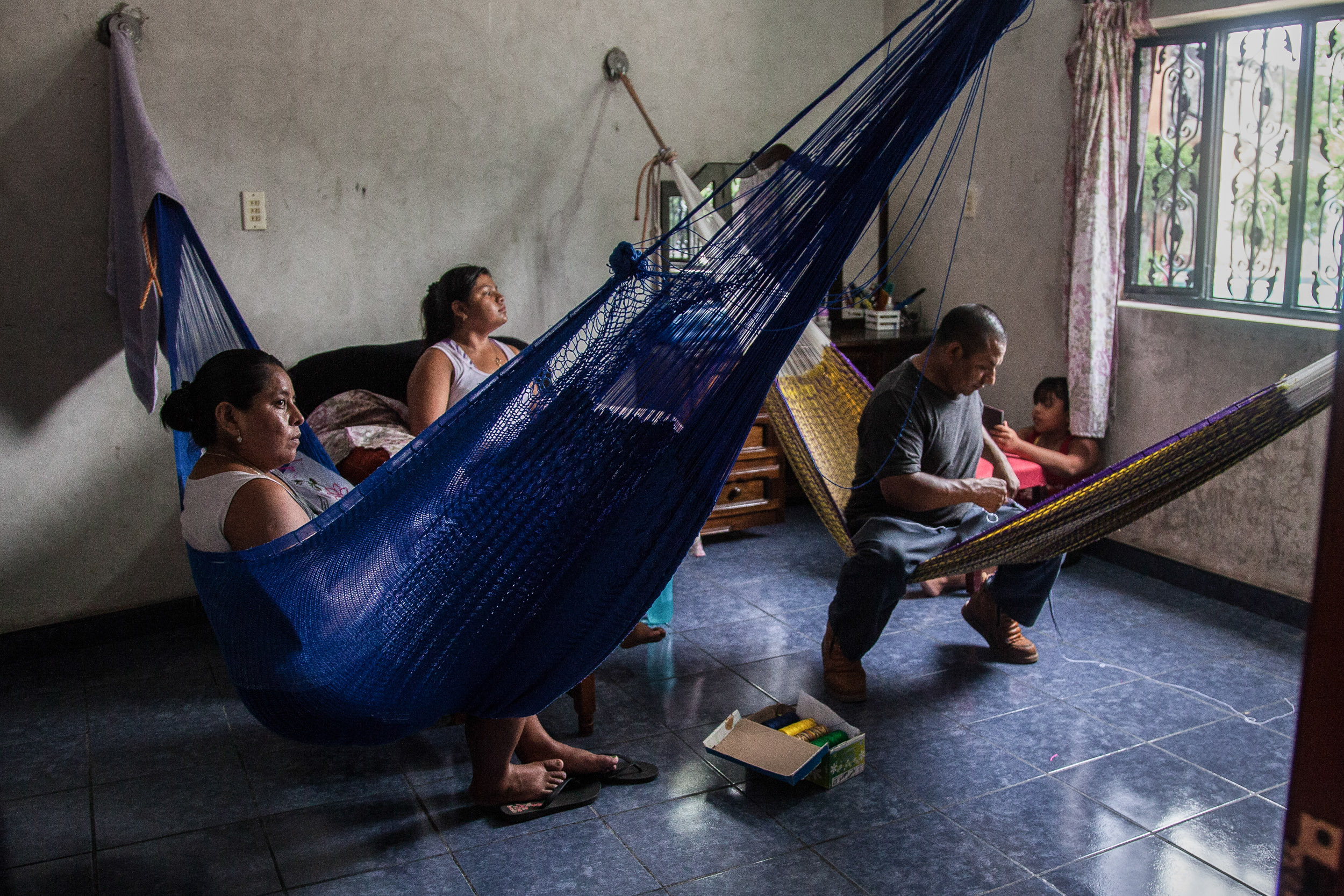 "Buenos dias!" he calls to those they pass in the streets.

"Buenos dias!" people of Tunkas call back as though he never left.

They make it to the front steps of their elementary school. The girls smile at their father before turning to walk up the stone steps to start another day. Jose pivots toward the house he built with money earned in California. He knows he'll see them in a few hours.